Dear Agents, Brokers and Consultants,

We believe so strongly in our program that we'd like each of you to have a free 30–day trial version of our Keystroke Encryption software.
We're sure that once you see the value in our program you'll understand why everyone should have this on their personal and business computers. This addition to our identity theft program sets us apart from all other providers of identity theft programs.
Simply click on the 30-day trial button and you'll be prompted to complete a very short contact form. We will then email you your temporary user license and a link to the download process. In just a few minutes your computer will be protected.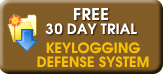 Once you've completed the download you'll be able to bank, shop, email and navigate the Internet without the threat of keyloggers stealing your identity.